HORSEBACK RIDE FIRESIDE
---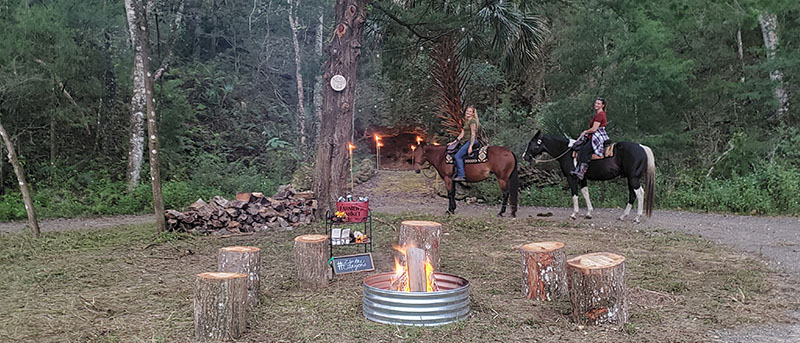 Give a horse some love and make a personal connection. Then take him for a MOONLIGHT ride to our FIRESIDE HIDEAWAY by the lake. Sip WINE, eat SMORES, and have a great time!
This is the ultimate horse encounter!
THIS TOUR TAKES PLACE ONCE PER MONTH DURING THE FULL MOON!
We'll start off the evening with an introduction to our beautiful horses. Get to know our gentle giants and connect with them on a personal level during a MEET and TREAT session. Take pictures, give treats and get to know your horse before your ride. After making a wonderful connection with your horse, take him on a one-of-a-kind sunset ride through our majestic Big Cliff Canyon to our fireside hideaway where you can enjoy a glass of wine and smores while sitting fireside by the lake.
This attraction lasts approximately 2 hours.
Call 352-351-9477 option 1 to book your encounter.
Participant requirements: Maximum weight of 250 lbs. and a minimum age of 7. Please see our participant requirementspage for further information.